Second Site News #088
23 January 2020
In this issue:
Second Site Version 8.00 Released
This release includes a major new feature, the Interactive Pedigree Chart. Please read the remainder of this newsletter and see the Change Log for more information.
Interactive Pedigree Chart
If your site currently uses a Paged Pedigree Chart, you should consider replacing it with a Pedigree Link User Item or by the Pedigree Link Person Entry Item. Both choices will reduce the size of your site while delivering a better experience for your visitors.
The Interactive Pedigree Chart is a pedigree chart where the visitor can change the starting person of the chart to anyone visible in the chart.
The chart shows a subject and three to five generations of ancestors. A list above the subject shows the names of the subject's siblings. A list below the subject shows the names of the subject's partners and children. The user may refocus the chart to a new subject by clicking icons in the chart or by clicking the name of a sibling, partner, or child.
The chart is created solely in the browser via a script. After the page loads, switching to another person is instantaneous. When navigating within a chart, visitors may use their browser's back and forward buttons to retrace their steps.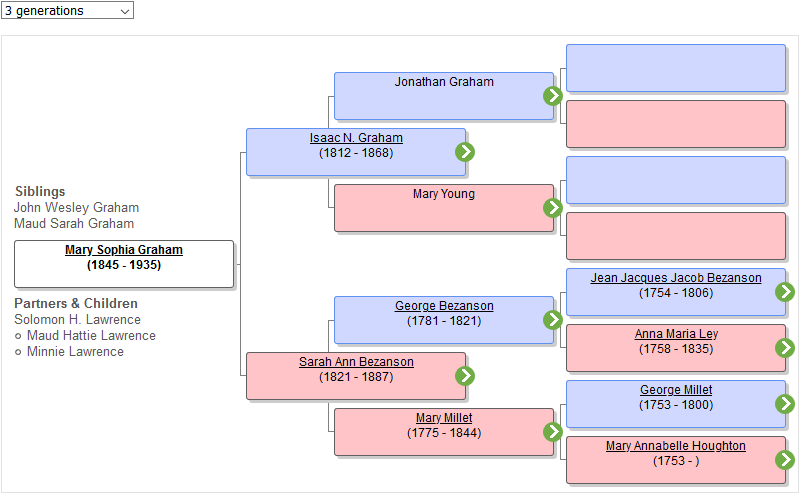 The Interactive Pedigree Chart is accessed via two components:
The Pedigree Link Person Entry Item which you may use to add a link to each person entry where the link opens the Interactive Pedigree chart focused on the current person.
The Pedigree Link User Item you which you may use to add a link to a custom Page or to a site menu to open the Interactive Pedigree chart to a person you designate.
Frequently Asked Questions
Q: I just bought Second Site 7. Do I have to pay for the upgrade?

A: See the Recent Purchases section of this newsletter.

Q: Will Second Site 8 read an SDF file written by Second Site 7?

A: Yes, Second Site 8 will read an SDF file written by Second Site 2 through Second Site 7. Properties and settings that have been changed in Second Site 8 are converted automatically.

The opposite is not true: do not open a Second Site 8 SDF file using a prior version of Second Site.

Q: Will my custom Theme, Format, etc., still work in Second Site 8?

A: Yes.

Q: Will my current preferences, such as the User Data Folder assignment, carry over to Second Site 8?

A: Second Site 8 will read your preferences from Second Site 7. This affects your UDF setting, default editor, and other settings that you manage via the File > Preferences command in Second Site. If you are upgrading from an older version, you may have to update the preferences manually.

Even though Second Site 8 will read preferences set by Second Site 7, it's a good idea to review your preferences after you upgrade to make sure they are set the way you want.

Some preferences, such as window sizes and positions, are reset when you upgrade.
Recent Purchases
Customers who purchased the full version of Second Site 7 on or after December 1, 2019 will receive a free license for Second Site 8. The license will be sent to the email address associated with that purchase. Customers who qualify for the free license should not purchase the upgrade or the full program. Customers who qualify for a free license but make a purchase anyway will be charged a handling fee equal to the upgrade fee.
Customers who recently purchased the upgrade to Second Site 7 are not eligible for a discount; they should purchase the Second Site 8 Upgrade. See the Purchases page.
If you purchased prior to December 1, 2019, even by only a day or two, you do not qualify for the free upgrade. I know it can be frustrating to miss a cutoff date by a small margin, but there are always customers who are just outside the cutoff date no matter when that date is. Second Site is updated fairly frequently, and most of the updates are free. I am confident that the longer you have Second Site, the more you will think it's a good value.
Upgrading to Second Site 8
Upgrading is easy! Install the new version and then open your current Second Site SDF file with Second Site 8.
Downloads
Second Site is available via download only. See the Downloads page.
Purchases
For purchasing information, see the Purchases page.